This has been quite the year for me — finished my last semester of school, graduated with my masters degree, moved across the country (twice!), started working full-time, and settled into life as a adult (whatever that means). I read 63 books in 2013 and thought my goal to read seventy-five books in 2014 would be a stretch. This year certainly felt busier than last year, and I think the fact that I read zero books in February and April and only two in March is a testimony to that.
Yet, here I am on the last day of 2014 with 150 books read! So I guess there is an upside to being hit by a car and unable to do much beside lay on the couch. Although, I would gladly trade away some of my stats for the year to avoid ever reliving that experience.
According to GoodReads, I read 37,678 pages in 2014 ranking this year fifth out of the seven I've logged on the site. The numbers might be a bit skewed — this year ranks as third in terms of the number of total books read — because nine of the 150 books I read were comics/graphic novels and 36 were audiobooks.
I didn't keep a spreadsheets of my stats this year so I can't break down my reading to the detail I have in the past beyond the basics — 62% fiction versus 38% nonfiction, 63% female authors versus 37% male, 81% library books, and 65% printed books. (For the first time, audiobooks jumped to double digits — a whopping 23%.) Instead, I thought I would offer up ten of the best and most memorable reads of the year.
In Canada, Ruth discovers the diary of a young girl, Nao, amidst debris that washes ashore following the 2011 Tōhoku earthquake and tsunami in Japan. Unsure if Nao perished in the tsunami, if she will ever have the opportunity to return Nao's diary to her, or if the timeline of Nao's diary ends with the beginning of Ruth's discovery, Ruth discovers that time not distance separates her from Nao and the possibilities for Nao's ending are up to her to write. Ozeki's book builds from the contradictory understandings what "time being" means — "time being" being the present moment that we're stuck with now and must embrace, or "time being" from the Buddhist viewpoint where each human is entrapped by time, which means that we are all in this together. My father and I listened to the audiobook read by the author as we drove across New England and ended up have a fascinating discuss about the meta nature of this novel. As I wrote in my review, easily one of the best books I've read in a long time.
The Sparrow by Mary Doria Russell (Part One | Part Two)


I don't think I can possibly thank Trish enough for hosting the readalong that encouraged me to give this book a try. I read this book with no idea what it was about and loved having the story unfold for me but, basically, the novel is about a group of friends sent by the Vatican to study the newly discovered planet of Rakhat. One returns to Earth near death after being found maimed in a brothel on Rakhat and is unable — or, unwilling – to tell investigators from the United Nations and the Vatican what happened during their missions. This novel moves beyond science fiction, though, to become one of the most ethically and spiritually challenging books I have ever had the pleasure of reading. (And, yes, I'm still unsure about the ending!)
I should not have resisted reading this novel for as long as I did. It truly is the masterpiece people claim it to be, and I paused the audiobook read by Frank Muller on more than one occasion to ponder some seemingly small detail the narrator, Winston, mentions in passing. More importantly, though, Orwell's novel raises important questions about the intersection of government and journalism: is the record of history being continuously rewritten by each new regime? Is war a tool to motivate the economy? Is fear utilized by the political elite to control the masses and continue to perpetrate the need for war?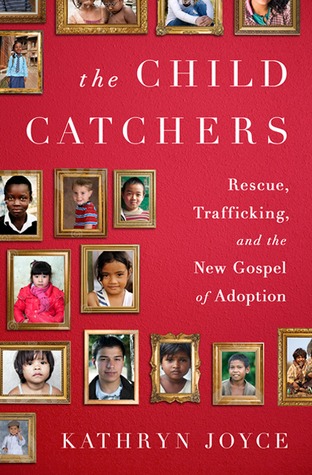 Entangled in the political juggernaut of reproductive rights, adoption is championed as a "win-win" compromise to a woman's right to choice — abortion opponents "win" as the woman has not had an abortion, pregnant women "win" because they do not have to raise the fetus in question, and couples struggling with infertility "win" because they can finally become parents. Yet adoption is also entangled with serious moral and ethical dilemmas — as suggested by the subtitle of Joyce's novel, "Rescue, Trafficking, and the New Gospel of Adoption" — that are only exacerbated as the demand for adoptable orphans far outpaces supply. The complexity of these issues are well-research and presented in such a way that I never became lost or bogged down in the intricacies of an international issue. Joyce's book is, frankly, a terrifyingly sobering read and one I would encourage anyone considering adoption — or, to be honest, anyone who cares about children, period — to read.
This book is not Harry Potter and thank goodness for that. Rowling's very adult novel focuses on a single council in the United Kingdom known as Pagford where the residents are divided in respect to their support of the local council estate, known as the Fields. The thirty-four characters in this novel experience a range of social issues, including rape, racism, drug addiction, domestic abuse, child abuse, self-harm, and suicide. The novel is a great demonstration of Rowling's ability to construct multifaceted, intriguing characters – villains and victims, alike – regardless of the genre. The majority of the characters had very distinct voices; I blame the few that didn't on the fact that the narrator of the audiobook, Tom Hollander, can only change the pitch of his voice so many times.
I actually attempted to read this novel in June 2011 without much luck, but the image of conjoined twins separated at birth from each other and their biological parents in Ethiopia during the 1960s never let me, and three years after my first attempt I plucked the audiobook version of the novel off the library shelf and tried for a second time. The narration of the audiobook by Sunil Malhotra was, quite simply, amazing, and I largely attribute my enjoyment of this novel with my love of his narration. This sweeping epic takes readers from Ethiopia to the United States providing insight into the history and culture of the former and a critique of the medical system in the later.

This gem of a novel republished by Persephone Books — it was originally published in 1953 — follows an English family as they grapple with the impact a young, French woman has on their lives. It is a quintessential "domestic" novel that turned my gut reaction to the genre on its head. I absolutely fell in love with Whipple's novel and her style of writing. All of her characters — even those who play the role of femme fatale – are written with such compassion and finesse that it was easy to understand their motivations and reactions, and particular attention is paid to how expectations of how life should be can upend how life actually is.
Every year, the average American eats thirty-three pounds of cheese (triple what we ate in 1970) and seventy pounds of sugar (about twenty-two teaspoons a day). We ingest 8,500 milligrams of salt a day, double the recommended amount, and almost none of that comes from the shakers on our table. Moss' book explains in detail how American ended up with a food system to pushes these high intake levels onto its consumers breaking down the problem into three key ingredients — salt, sugar, and fat. His information is detailed but easy to follow — no easy feat given how convoluted the heath research can be — and was the basis for several interesting conversations I had during 2014.
Off the coast of Washington on San Piedro Island in 1954, Japanese-American Kabuo Miyamoto is accused of murdering a local fisherman named Carl Heine Jr., who was found entangled in the drift of his boat out at sea. The accusation relies on the still raw history between Carl Jr. and Kabuo, between the Caucasian residents and those of Japanese descent who came under suspicion following the attack on Pearl Harbor in 1941. I was so enamored with the poetic way this novel addressed racism towards people of Japanese descent during World War II that I made a whole list of nonfiction books to read on the topic. But the most thought provoking aspect of this novel — and the reason why I added it to this list — was its examination of how difficult it is for communities to set aside hatred after a war in which their neighbors are presented as their enemies.
Famous for introducing Americans to the art of French cooking and, later, for producing the first cooking show on television, Child's memoir follows her life from her first moments on French soil when she tasted French cuisine. The memoir was finished by her husband's grandnephew following her death in August 2004, yet the novel never loses Child's voice — I felt as though as I was having a conversation with her, especially since I listened to the audiobook — and her love of French cuisine and the French people is conveyed with gusto and infectious enthusiasm. She was a truly remarkable woman, and I'm so glad I finally took the time to read her memoir.
It was difficult to limit myself to ten books and I hope to have the same problem in 2015. Other than that wish, I have only two plans for the new year: (1) continue to make progress on my list for the Classics Club and (2) raise the percentage of books read off my own shelves from a pitiful 9% by participating in the TBR Double Dog Dare.
Before I ring in the New Year and head off to airport to spend a well-deserved vacation (in my humble opinion) with my family, I would like to take the time to thank you all for reading my blog, sharing your thoughts, and celebrating all things bookish with me since 2008. I wish you all a happy and book-filled 2015!