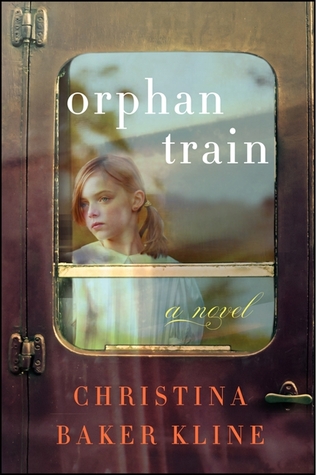 Seventeen-year-old Molly Ayer hides behind her gothic persona refusing to grow close to anyone at her newest foster home other than her boyfriend and counting down the days until she can age out of foster care. Molly is sentenced to fifty hours of community service after she is caught stealing a tattered copy of Jane Eyre from the public library and, thanks to her boyfriend's interference, spends the time helping a 91-year-old woman named Vivian Daly sort through her belongings.
Over these fifty hours, Molly learns that Vivian was orphaned at a young age after arriving in New York City from Ireland and placed on a train to the American Midwest by the Children's Aid Society. Her first name changing at every new home, Vivian is utilized as unpaid labor by her new family, who deny her food and an education, before being relinquished to another family who cannot care or afford their numerous children.
This novel garnished a lot of praise on my Facebook feed and I had it added to my to-read list long before it was chosen as the November read for my book club. Unfortunately, while Kline's premise holds a lot of promise, the execution with its predictable plot and stereotypical characters left much to be desired.
Admittedly, I am inexcusably ignorant about Native American history beyond what is covered in my high school textbooks or presented at the Battle of Little Bighorn, but I am at least familiar with the statues governing the placement of Native American children in foster care or for adoption. Molly's father is a Penobscot Indian; she lived on the Penobscot Indian reservation with her mother even after her parents separated. Therefore, Molly is a member of the Penobscot Indian Nation, a federally recognized tribe, and falls under the statue of the Indian Child Welfare Act.
As such, Molly must be placed with, in order of preference, (a) a member of her extended family; (b) a foster home approved or specified by her tribe; (c) an Indian foster home approved by an authorized non-Indian licensing authority; or (d) an institution for children operated by an Indian organization. She very likely would not be placed with Dina , whom Kline presents in a stereotypical fashion as a greedy and uninterested foster mother, and, at the very least, would have someone from her tribe helping her to maintain a connection with her community in addition to her state-mandated caseworker. Thus, the feelings of separation that so helped Molly bond with Vivian occurred solely to advance the plot, and I could not help but be suspicious of her research.
The little research I have done on orphan trains does align with what Kline presented as Vivian's experience. There were people who selected orphans solely because they wanted farmhands and, for the most part, I thought the chapters on Vivian's experience were the most interesting and compelling aspects of this novel. However, the ending is neatly wrapped up into a bow through a series of implausible events – mainly, the reunion of two characters whose names were changed multiple times in an age without the internet – only to be shattered by Vivian acting contrary to her previous characterization.
Maybe if the book had been longer I could have garnished a better understanding of Vivian, or maybe the ending would not have felt so abrupt. But this is the story Kline decides to give her readers, and I turned the final page hoping someone else decides to tackle this overlooked aspect of American history.
Book Mentioned:
Kline, Christina Baker. Orphan Train. New York: William Morrow, 2013. Print. 294 pgs. ISBN:

9780061950728

. Source: Library.
Book Cover © William Morrow. Retrieved: November 12, 2014.