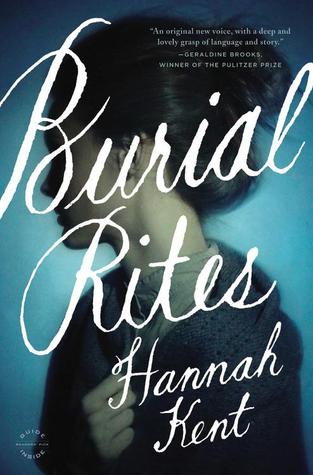 Set in Ireland in 1829, Kent's novel offers a fictionalized account of the final days of the last person in Iceland to be condemned to death, Agnes Magnúsdóttir. Convicted of murdering Natan Ketilsson and Pétur Jónsson in in Illugastaðir located in northern Iceland on March 13-14, 1828. A year after her conviction, Agnes is moved out of Reykjavík to a small farm in the rural community owned by the district officer Jón, his wife Magrét and their two daughters, Lauga and Steina, in order to receive religious counsel from Assistant Reverend Thorvardur Jónsson, whom Agnes met briefly many years before her crime.
The novel alternates between official documents, the third person narrative of the reverend and the district officer's family, and the first person narrative of Agnes as she reconciles her past with the future decided for her. It is a structure that took me more than half the novel to become accustomed to; there is no forewarning in the form of changing chapters or headers that the switch is about to occur until the final third of the novel when Agnes begins to explain her motivations for her crime. I appreciated the insight into the thoughts and motivations of all the characters but the structure felt unnecessary, particularly towards the end of the novel when Agnes' story and her refusal to be honest with the reverend became the focal point.
Kent did attempt to make Referend Toti, as he is known by Agnes and the district, into a more complex character as the novel progressed. Yet the flatness of his character — meek and indecisive with predictable counsel — in the beginning made such a creation difficult to achieve. That said, I was intrigued by the district officer's family, particularly Magrét and Steina, and enchanted by both the interactions of those two characters with Agnes and the Icelandic aspects of the novel — the language, the oral traditions Agnes knows, the descriptions of the country's landscape.
The novel was selected by my book club for our October meeting yet I cannot fathom what exactly we will have to discuss about the novel outside of whether or not we enjoyed it or not. Personally, I fall in neither camp — there were aspects I loved but formatting choices made it difficult for me fall into the story and love the novel as a whole.
Others' Thoughts:
Book Mentioned:
Kent, Hannah. Burial Rites. New York: Little, Brown and Company, 2013. Print. 314 pgs. ISBN:

9780316243919

. Source: Library.
Book Cover © Little, Brown and Company. Retrieved: October 3, 2014.