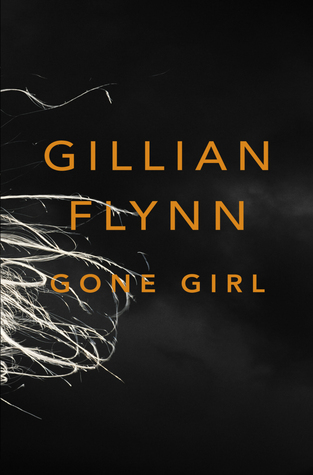 On Nick and Amy Dunne's fifth wedding anniversary, Nick heads from the bar he owns with his twin sister dreading the inevitable trail of clues his wife will have set up for him in celebrate of the day because he can never figure out their meaning much to her frustration. But Nick arrives to find the living room in shambles and his wife nowhere to be found. The police and the media seize on Amy's disappearance, especially after it is revealed that Amy is pregnant, and Nick becomes the prime suspect after passages from Amy's diary paint her as a victim of domestic violence and Nick is caught in a series of lies and inappropriate behavior. Nick stands by his innocence but if Nick didn't do it, where is his wife?
I'm afraid I cannot review this book without spoiling major moments of the plot, but my spoiler free review would be that this is the perfect book to keep you awake whilst waiting overnight in the emergency room to be seen.  The two twists, which delineate the book into three distinct sections, are jolting, and the cover alone attracts the attention of nurses who bring warm blankets and cups of water to the impromptu book discussion.
Despite the popularity of this book since its publication in 2012 or the fact that I checked the novel out from the library on multiple occasions, I knew nothing of the plot and had no knowledge of the multiple twists this book would throw at its readers before cracking it open. The mystery of what happened to Amy and whether or not Nick was guilty of a crime amidst the, unfortunately, common backdrop of lost jobs, friction amongst the extended family, and slowly dying marriage was gripping, but the revelation of Amy's sociopathy to Nick's narcissism twists this novel into something much more engaging and interesting. A character study born out what original appeared to be a common mystery of a missing wife and a presumably guilty husband hiding multiple secrets.
Flynn is one of the few authors who can successfully execute the he-said/she-said narrative structure; it reads, at times, like the reader is the interrogator in a police investigation. But part of her success is due to her ability to take this structure and turn it on its head so you truly have no idea who to believe until the threads are pulled together in the end. Suspicion shifts from Nick to Amy to Nick and back and forth over and over again, and even at the end I wasn't sure if Flynn was still trying to pull the wool over my eyes in some way or another.
There were a few inconsistencies that contributed to that feeling, and the ending itself felt like a letdown after such a masterful introduction to the world of Amy and Nick. It just didn't have the same whoa! impact as the rest of the novel. But, overall, it is incredibly smart and intricate read with a meditation of relationships I'm still pondering over. Her commentary on the myth of "the Cool Girl" alone makes the book worth reading.
Book Mentioned:
Flynn, Gillian. Gone Girl. London: Weidenfeld & Nicolson, 2012. Print. 395 pgs. ISBN: 9780297859383. Source: Library.
Book Cover © Weidenfeld & Nicolson. Retrieved: August 28, 2014.