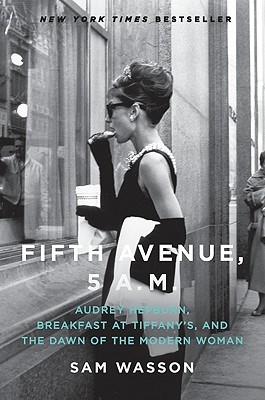 Subtitled "Audrey Hepburn, Breakfast at Tiffany's, and the Dawn of the Modern Woman", Wasson examines the production of the movie and the little black dress that turned Audrey Hepburn into a fashion icon. In recounting the making of the movie, Wasson reveals that Truman Capote, author of the novel, wanted Marilyn Monroe to play Holly Golightly while the director, Blake Edwards, could not settle on an ending to the movie and Hepburn struggled to balance motherhood and her acting career. By the end of the book, Wasson makes a connection between the sexual revolution of the late fifties and early sixties and the not-so-virginal Holly Golightly suggesting that Audrey and her little black dress embodied sophistication not always associated with premarital sex.
Having read Capote's novella and seen the movie on multiple occasions, I was intrigued by the idea of exploring more about the production of the film adaption as well as about Audrey Hepburn's life in general given how many of my friends consider her to be both a fashion and a personal icon. Wasson delivers on both counts providing easy to remember facts  and a detailed account about the conflict between costume designer Edith Head and the design house Givenchy over who would design that infamous black dress Audrey wears while enjoying her breakfast before the windows of Tiffany's. Audrey's uneasiness with role, particularly given her pregnancy, and the conflict over her portrayal with the censors in Hollywood was especially interesting to read given how well known she is for the role today.
However, Wasson tries to take this uneasiness and Hollywood's original actions and prescribe too much credit to the film. In suggesting the film changed fashion forever and contributed to the liberation of women and their sex lives in America, Wasson ignores the impact of the novel published three years earlier and elevates the image of the black dress above the one of Hepburn carrying an over-sized cigarette holder or wearing her sunglasses. Much of what Wasson puts forth in this section of the novel reads like speculation with little analysis or historical context to support his claims and, ultimately, colored my appreciation of this book.
Book Mentioned:
Wasson, Sam. Fifth Avenue, 5 A.M.: Audrey Hepburn, Breakfast at Tiffany's, and the Dawn of the Modern Woman. New York: Harper, 2010. Print. 231 pgs. ISBN:

9780061774157

. Source: Library.
Book Cover © Harper. Retrieved: June 17, 2014.