You are currently browsing Christina's articles.
Recuperating | I was hit by a car door while riding my bike a little over two weeks ago and was pinballed into another car before coming to a stop. I was very fortunate in that I did not break a bone nor did I hit my head, but I spent all night in the ER waiting to be seen and received several lacerations and two very large contusions that made it difficult to walk, sit, or stand. I also managed to catch a cold less than a week later so I haven't been doing anything after work other than reading and sleeping for ten plus hours the past two weeks. I was able to get back on my bike this past Wednesday and go for a short ride, although it was nerve-wracking to ride right past the spot where I was hit, and I'm enjoying my walks to work again now that they're pain free.
Reading | I reached the halfway point in The Sparrow by Mary Doria Russell last night and will be posting thoughts on the first part tomorrow for the readalong hosted by Trish of Love, Laughter, and a Touch of Insanity. Trish was also kind enough to send me the beautiful bookmark photographed above, which I used to mark my place on the few occasions where I actually put the book down. I'm also listening to Her Fearful Symmetry by Audrey Niffennegger on audiobook and am about sixty-five percent of the way through. I had no idea the book was actually a ghost story, but it's been a good selection as the days turn colder and October comes closer and closer.
Discovering | Speaking of audiobooks, you might have seen a sudden rise in the number of audiobooks reviewed. I utilized audiobooks occasionally for school work and textbooks in the past yet I've recently discovered audiobooks are a great alternative to listening to music at work. All of my colleagues listen to music because the structure of our office spaces allows you to hear every cough, pen drop, and phone call and it can be rather distracting. But I find music starts to get on my nerves after a period of time, especially when Pandora won't let me skip one more song. I can't listen to audiobooks all the time due to the concentration they require, but they are perfect for the days when I am manually transcribing PDF reports into Excel.
Planning | Once I finish Her Fearful Symmetry, I plan to start listening to 1984 by George Orwell, which is the very first book on my list for the Classics Club. I also plan to start reading a nonfiction book but cannot seem to decide between the seven I currently have checked out from the library.
Borrowing | I currently have twenty-seven books checked out from the library plus three cookbooks and two DVDs. I think I've discovered the downside to being within walking distance of the library – I'm constantly deciding to pop over during my lunch break to return a book or pick up one from the hold shelf only to return to my office with five or six in hand.
Watching | I rewatched the first season of "Little House on the Prairie" and watched the episodes from seasons six and seven where Almanzo and Laura met and marry. Otherwise, the television has remained off. I'm sure that will change with my favorite shows returning later this month and with the documentary on the Roosevelts starting tonight on PBS.
Blogging | I have two reviews to write up and my thoughts on the first part of The Sparrow to finish for tomorrow. I was going to do a Library Loot post, but I'm feeling a bit lazy about assembling all thirty titles into one post.
Anticipating | I haven't seen my brother since we were both home in June and my dad since I moved away in July so I'm eagerly anticipating their visit next weekend. We'll be visiting two national parks and seeing the Red Sox play at Fenway (a first for my dad and brother!), and I have Monday off from work so all the more reason to be exicted.
The Sunday Salon:
The Sunday Salon encourages bloggers to get together –at their separate desks, in their own particular time zones– every Sunday and read. And blog about their reading. And comment on one another's blogs. Salon participants are encouraged to blog about their time spent reading, pages read, information about current reading, discuss a reaction to a book, state what they plan to read the following week, or make suggestions for a group read.
Photograph © Ardent Reader. Taken: September 14, 2014.
Winner of the Pulitzer Prize for Literature (the first ever awarded to a woman), Wharton's novel follows a young lawyer, Newland Archer, as he moves about the elitist social circle of New York City and prepares to marry May Welland. Before Newland and May's engagement is announced as the triumph it is, Countess Ellen Olenska, May's cousin, returns to Manhattan introducing scandal to their circle for Ellen has separated from her abusive husband. Ellen's disillusionment with the society in which she, Newland, and May were raised begins to trouble Newland, and he finds attraction to Ellen growing even as society champions Newland and May's marriage as the pinnacle of good breeding and fortune.
Society – its conformity, ritual, and rules – is the main character of this novel and Wharton's presentation of society rather than the characters of Newland, May, or Ellen is the thought-provoking aspect of this novel. Without society's rigid structure, Newland would not worry about upsetting the status quo by following his heart, May would not entrap (for lack of a better word) her husband consigning both her and their children to life filled with resentment, and Ellen would not consider trading away separation from her abusive husband as the lesser of two evils. Without society's rigid structure, the action of the novel might be less subtle and the details not so rich.
The manipulation of society's rigid structure by Ellen, May, and Newland to meet their individual goals twists the novel into an entirely different interpretation. At a cursory read, the novel seems to be arguing against the constraints put upon people by society. Yet, as I pondered the characters and their scant actions, the novel also demonstrates the resourcefulness and meanness (for lack of a better work) people develop and internalize when consigned to such situations. May is presented as the villain or, at the very least, culpable in Ellen and Newland's unhappiness due to her gentle (read: stupid) nature. Yet May sees her marriage to Newland for what it is – a means for entrance into the highest echelon of society – and carves out a modicum of control in order to keep that together. She plays the few cards she has and wins, at least in society's view.
Unfortunately, the intense focus to details rather than action works against the novel from an audiobook standpoint. It takes a tremendous amount of concentration to catch all the details, to understand exactly why Newland is so resign in the face of so much desperation, and I was forever missing what originally appeared to be minute details forcing me the rewind again and again. The narrator, Lorna Raver, was also very easy to tune out – whether this is due to the intonation of her voice or the structure of the novel, I cannot ascertain. Oh, how I wish I had read rather than listened to this novel so as not to taint my appreciation.
Book Mentioned:
Wharton, Edith. The Age of Innocence. Read by Lorna Raver. Ashland, OR: Blackstone Audio, 2008. Audiobook. 11 hours, 46 minutes. ISBN:

9781433251405

. Source: Library.
The Classics Club:
I read this book for the Classics Club, which challenges participants read and discuss fifty or more books considered to be classics within a five year period. My personal goal for this project is to read seventy-five books in three years ending on August 15, 2017. You can find out more information by checking out my introductory post, project post, or spreadsheet of titles.
Book Cover © Blackstone Audio. Retrieved: September 11, 2014.
Circa the 1790s in the Dutch settlement of Tarry Town, an extremely superstitious schoolmaster from Connecticut named Ichabod Crane competes with Abraham Van Brunt for the hand of eighteen-year-old Katrina Van Tassel, the daughter and sole child of a wealthy farmer names Baltus Van Tassel.
As Crane leaves a party at the Van Tassel home one autumn night, he travels through a secluded glen called Sleepy Hollow and is pursued by the Headless Horseman, who is supposedly the ghost of a Hessian trooper who had his head shot off by a stray cannonball during an unnamed battle of the American Revolutionary War.
This free audiobook was released by Audible in promotion of the second season of the television show "Sleepy Hollow" on Monday, September 22. Mison plays Ichabod Crane on the show so it was a little odd hearing him referring to Ichabod in the third person, but he has the perfect voice for audiobooks and adds intonations to the eighteenth century language used in the text that make it easier to follow the story. His pace was also perfect; I never had to speed up the audio as I have done in the past with other audiobooks.
Having watched the show based on this story, I was expecting a story that would inspire fear or, at least, have a creepy undercurrent to the story and in that regard the book was a disappointment. The descriptions of the characters and the setting are very vivid, but Irving's capture on my imagination began to wane when the story failed to move forward as quickly as I expected.
Book Mentioned:
Irving, Washington. The Legend of Sleepy Hollow. Read by Tom Mison. Newark, NJ: Audible, 2014. 1 hour, 15 minutes. ISBN: 9781471316029. Source: Free download.
Book Cover © Audible. Retrieved: September 11, 2014.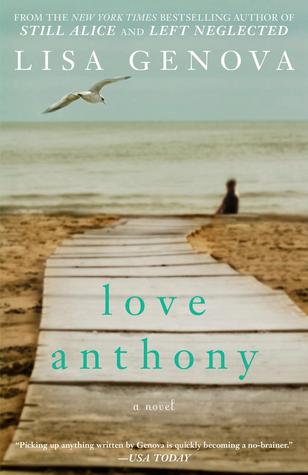 Olivia arrives on the island of Nantucket unsure of how to move forward after the death of her eight-year-old severely autistic son, Anthony, and the unraveling of her marriage to Daniel. Year-round resident, Beth, is struggling to find her artistic voice and adapt to being a single mother after a card arrives in her mailbox informing her of her husband's infidelity. Although she only met Anthony briefly on the beaches of Nantucket five years ago and never learned his name, Beth finds herself channeling his voice and his ticks as she writes her very first novel.
I've only read one book by Genova before but what keeps her books from being shelves amongst breezier, chick-lit reads is her mastery interjection of neurology and science into the story. While she is one of the few authors who manages to capture the uniqueness of autism with this book, Genova lost her scientific credentials, in my opinion, right after Olivia explained how her son was fine until he received his vacations and how guilty she felt then (and, presumably, feels now) for insisting he have his shots. I'm more than willing to accept the rather unbelievable idea that the spirit or ghost of Olivia's uncommunicative son would speak through, or to, a woman he has met only once, but I cannot tolerate even the suggestion that vaccinations lead to autism and only finished this book because it was selected by my book group for our September meeting.
There is no compelling reason to include Beth in the novel other than her being a mode of communication for Anthony. She is not an interesting character, and there is nothing unique to her story. Whether or not she allows her estranged husband back into her life is her business; I could care less. She, her friends, her husband, and her children are all wooden and riddle with clichés – the cheating husband, the sullen teenager, the serial dater who encourages Beth to go spy on the woman whom her husband cheated with. Shouldn't Beth's three kids have more to say about their father moving out? How can their mother so easily gloss over such a big event? Shouldn't the cheating husband who wants his wife back be inclined not to joke or laugh or touch his mistress in front of his wife? How can he not realize his wife isn't going to take him back then?
The ending caused many of women in my book group to cry, but I turned the last page feeling emotionally manipulated by Genova in the hopes of garnishing such reactions. The most disappointing aspect of the entire novel for me, though, was how lost Anthony becomes in the novel. The sections "written" by him could have made a beautiful book on their own or combined with Olivia's journal, but he was unfortunately used as a device to "save" an entirely superfluous character making his life all the more tragic.
Book Mentioned:
Genova, Lisa. Love Anthony. New York: Gallery Books, 2012. Print. 309 pgs. ISBN:

9781439164686

. Source: Library.
Book Cover © Gallery Books. Retrieved: September 9, 2014.
An aging spy at the height of the Cold War, Leamas is preparing to retire and return home to Britain but his spy master, known by the code name Control, has one last assignment for him: present himself as a disgraced spy, be recruited by the Soviets, and root out the double agent helping the Communists to identify and kill Soviet spies working as double agents for Britain. Sent back out into the cold – the no-man's land near the Berlin Wall – Leamas becomes entangled with Liz, a librarian's assistant and member of the Communist Party on the democratic side of the Wall.
This was my third attempt reading the spy novel that made le Carré famous and while I finished reading the book this time, I will confess that I had no idea what was happening for the majority of the novel. It has a certain noir, black and white film quality to it that might translate well to the screen but is difficult to follow in a written format.
The characters speak in code to another, which may be due to this being the third book in the series and the author assuming a certain level of knowledge and familiarity with prior incidents and characters, but le Carré refuses to help readers decipher the code until the bitter end. The descriptions are sparse and little context is given to the characters' dialogue; I often found myself wondering where in space – Great Britain, West Germany, or East Germany – the characters were in that moment.
I did, however, like the ending (and not just because the book was finally over), which seems to be rare given the reviews on GoodReads. It was the most suspenseful albeit bizarre moment in the entire novel finally pulling together the importance of Liz, who was the only interesting character to me, with Leamas' mission. I can also understand why this book is such a classic with its heavy use of dialogue, sparse descriptions, and cool detachment from the story I've come to – justly or unjustly – associate with spy novels over the years.
Others' Thoughts:
Book Mentioned:
le Carré, John. The Spy Who Came In from the Cold. New York: Scribner, 2001. Originally published 1963. Print. 224 pgs. ISBN: 0743442539. Source: Library.
The Classics Club:
I read this book for the Classics Club, which challenges participants read and discuss fifty or more books considered to be classics within a five year period. My personal goal for this project is to read seventy-five books in three years ending on August 15, 2017. You can find out more information by checking out my introductory post, project post, or spreadsheet of titles.
Book Cover © Scribner. Retrieved: September 9, 2014.