You are currently browsing the monthly archive for April 2012.
Subtitled "Inside the New Threat Matrix of Digital Espionage, Crime, and Warfare", Brenner uses his extensive background in and knowledge about national security to explain America's next great battleground: digital security. Incidents like WikiLeaks posting secret U.S. State Department cables is only the tip of this massive, transparent iceberg that threatens to sink the United States.
Counterfeit computer chips have found their way into our fighter aircraft; the Chinese stole a new radar system that the navy spent billions to develop. American and NATO soldiers used intentionally corrupted thumb drives to download classified intelligence from laptops in Iraq; citizens fall for phishing scams and give up the log in information to their bank. And you and I should stop trying to hide behind anonymity when book blogging and blog reading because nothing is secretive on the web.
The book reads largely like a spy novel with perennial favorite Russia and new favorite China at it again and there were moments when I was afraid Brenner might be exaggerating. Yet, he backs up with statements with citations and expertise. Overall, the book is a great read. Unsettling? Yes. But a fascinating read nonetheless. I'm really looking forward to my class' discussion on this topic tomorrow.
Book Mentioned:
Brenner, Joel. America the Vulnerable: Inside the New Threat Matrix of Digital Espionage, Crime, and Warfare. New York: Penguin, 2011. Print. 308 pgs. ISBN: 9781594203138. Source: Purchased.
Book Cover © Penguin. Retrieved: April 26, 2012.
I received this book for review from the publisher through LibraryThing's Early Reviewer program. The book was published in February and I, of course, shelved the book until long after the publication data. I am apparently not that great at reading advanced review copies.
There's something almost magical about this book. With Hitler's army barring down on them, the residents of a remote Jewish village in Romania decide to reset the world and start over from the beginning. Relationships are reset; our narrator,  an eleven-year-old girl, is reassign to another family to be their daughter, to be their baby. Genesis begins anew. For a while the dream manages to sustain them. The young girl grows up and becomes a wife and mother. Yet like all good dreams, the residents are forced to wake up and face the new world, and the younger mother must flee to save herself, her children, and her husband.
The same magic surrounding this book is what keeps the reader so distant. This new world is built for the eleven-year-old girl, for her aunt and uncle, for her parents and neighbors. It is not for the reader and while I always felt that sense of magic surrounding me, I never could catch hold of these characters.
This is especially true after Lena and the others go one the run. I lost track of them, lost my footing along the way. The psychological damage inflicted on Lena, our narrator, even before the war warps her perception of reality. An eleven-year-old forced to be a baby? A twelve-year-old who marries and becomes a mother? She's wrapped up in her own naivety because she's still a child.
Yet all the characters have a warped perception, all of them are naive, and it's hard to keep track of people who are referred to by their occupation rather than names or personalities. The book is foggy. The end is bittersweet.
Book Mentioned:
Ausubel, Ramona. No One is Here Except All of Us. New York: Riverhead Books, 2012. Print. 336 pgs. ISBN: 9781594487941. Source: Advanced review copy.
Book Cover © Riverhead Books. Retrieved: April 25, 2012.
Unlike most of my family, I am not much of a mystery/crime thriller fan (although I do watch a lot of cop dramas on TV). The Nikki Heat series by "Richard Castle" might turn me into one, however. For those of you unfamiliar with Castle, which airs on ABC, this series of books is purportedly written by the fictional character of Richard Castle and based on Castle's shadowing of one Detective Kate Beckett (the "real life" Nikki Heat). It's like fanfiction on steroids!
In this book, Nikki Heat is working to solve two seemingly unconnected murders and deal with the fallout from Jamison Rook's front page article glorifying her and her career. Part of her is glad that he's gone; the other part misses him and their romantic connection terribly. Imagine her surprise when she appears at a crime scene and sees Rook sitting the dead woman's apartment. The deceased woman is New York's most vicious gossip columnist, Cassidy Towne, and several high profile suspects have a motive for killing her. Rook, who's writing an article on Towne, knows more about the victim than Heat ever could manage to glean from interviews so she's left with no choice but to let him tag along. Again.
I enjoy this series because the books are well-written, clever, and constantly remind me of the events in the show. It's easy to pick out scenes or moments between Rook and Heat that are derived directly from moments between Castle and Beckett. I spotted elements from both 2.17 (Tick, Tick, Tick…) and 2.18 (Boom!) both in this particular novel and its dedication.
These books also feed into my fangirling as the relationship between Rook and Heat is very clearly the one that Castle imagines for himself and Beckett. Although Naked Heat is funnier than its predecessor, I did have a hard time keeping all the suspects and supporting characters straight between the periods which I did have time to read. Not going to stop me from reading the next book in the series.
Book Mentioned:
Castle, Richard. Naked Heat. New York: Hyperion, 2010. eBook. 304 pgs. ISBN: 9781401324025 Source: Purchased.
Book Cover © Hyperion. Retrieved: April 23, 2012.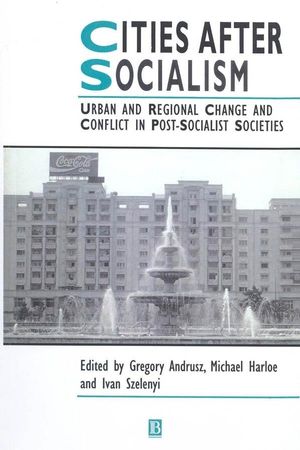 I'm not very good at visiting my professors during office hours unless I've received a bad grade or I'm asking for a recommendation letter. Visit a professor for advice on a paper? Never! Yet this book has me completely rethinking my refusal.
I had hit a wall with my final paper for my social justice class because, while I did have an idea, it was so grandiose and broad that I had no clue if it was actually met the requirements for the final paper. My professor not only helped me refine my idea but he let me borrow this book from his personal library. I couldn't not have written that paper without this book. Moral of the story? Go to office hours just to chat and not to complain and beg.
Subtitled "Urban and Regional Change and Conflict in Post-Socialist Societies", this book is a collection of essays by different authors on the transition of socialist cities into capitalist ones, focusing largely on housing privatization in the former communist states of Easter Europe and the Soviet Union. Basically, the book argues that cities like East Berlin, Warsaw, and Saint Petersburg will decide the trajectory in which formerly socialist countries will take. The physical structure of the city was so vastly altered during socialism that undoing the construction of micro-regional housing complexes on the outskirts of the city and parade sites and monuments in the city center through the forces of capitalism will be a formidable task that will affect residents differently. (Or, you could be like Hungary, and dump all your old statues in one location and charge admission to Westerners to see them.) Furthermore, a lack of protection for the new urban underclass will doom these countries to cycles of violence and social unrest.
I was afraid the book would be a very dense read and inaccessible to someone not all that familiar with socialism/communism. Not true. It's actually very informative and easy to understand. Why the authors didn't explicit answer the questions I was formulating for my own paper on social justice and the socialist city, I learned so much background information that my paper was much better than had it been without reading this book.
Book Mentioned:
Andrusz, Gregory, Michael Harloe, and Ivan Szelenyi. Cities After Socialism: Urban and Regional Change and Conflict in Post-Socialist Societies. Oxford, UK: Blackwell Publishers, 1996. Print. 340 pgs. ISBN: 9781557861658. Source: Borrowed.
Book Cover © Blackwell Publishers. Retrieved: April 23, 2012.
I think this as my best read-a-thon yet! Starting the day off with an easier read pumped me for the rest of the day; I highly recommend doing this next time. Yes, I had to take breaks to work on final papers, Skype with my parents, and see friends, but I was motivated to use my reading time wisely throughout the day.
I read 910 pages and finished three books in roughly nine hours of reading. I finished America the Vulnerable by Joel Brenner, Naked Heat by Richard Castle, and No One is Here Except All of Us by Ramona Ausubel. Brenner's book is assigned reading for a class and Ausubel's was an ARC I received back in January so I'm thrilled that I managed to finish both books. I also made some headway into three other books on my TBR pile by reading 58 pages of The City and the City by China Miéville, 45 pages of Comeback America by David M. Walker, and 75 pages of Heat Rises by Richard Castle. I did have high hopes of making a sizable dent into Wolf Hall by Hilary Mantel, but I waited entirely too long in the day to start the book and couldn't get past page 8.
This time, the read-a-thon was all about my reading so I did very little blog hopping. I will return all the comments and cheers I've received from blogging friends and new-to-me bloggers later this week. Promise.
It's tradition to end the 'thon with an ending survey. I've answered the End of Event Meme below as well as provided a better summary of what I accomplished. I urge you to check out my master update post for more information
Summary:
I read 910 pages.
I finished three books.
I started three more books.
I read for 9 hours.
I cheered for 6 blogs.
I completed 2 memes and 0 mini-challenges.
End of Event Meme:
Which hour was most daunting for you? Hour 16! I had just gotten off Skype with my parents and wasn't in the mood to do anything.
Could you list a few high-interest books that you think could keep a Reader engaged for next year? Richard Castle's Nikki Heat series is my brain candy (just like the show). I don't think I would have read anything for the last two hours if I didn't switch to Heat Rises.
Do you have any suggestions for how to improve the Read-a-thon next year? There didn't seem to be as much energy this time around. Maybe because most of the people I follow weren't participating? I don't know; it just seemed like participation – and therefore enthusiasm – was down across the board.
What do you think worked really well in this year's Read-a-thon?I really liked all the gifs posted on the Readathon website. I don't normally watch videos (too distracting) but the gifs have me cracking up every time I clicked over the blog.
How many books did you read? I read three books and started three more.
What were the names of the books you read?
America the Vulnerable (Joel Brenner) — Finished!
The City and the City (China Miéville) – 58/336 pages
Comeback America (David M. Walker) — 45/218 pages
Heat Rises (Richard Castle) — 75/302 pages
Naked Heat (Richard Castle) – Finished!
No One is Here Except All of Us (Ramona Ausubel) — Finished!
Wolf Hall (Hilary Mantel) – 8/604 pages
Which book did you enjoy most? America the Vulnerable by Joel Brenner. (Yes, Virginia, you can read nonfiction during the read-a-thon and like it.)
Which did you enjoy least? None. I liked them all.
If you were a Cheerleader, do you have any advice for next year's Cheerleaders? Not applicable.
How likely are you to participate in the Read-a-thon again? What role would you be likely to take next time? Very likely. October works better with my schedule. I'll be a reader and, hopefully, a cheerleader.
The Sunday Salon:
The Sunday Salon encourages bloggers to get together –at their separate desks, in their own particular time zones– every Sunday and read. And blog about their reading. And comment on one another's blogs. Salon participants are encouraged to blog about their time spent reading, pages read, information about current reading, discuss a reaction to a book, state what they plan to read the following week, or make suggestions for a group read.