You are currently browsing the monthly archive for July 2011.
Although I've taken two classes and read more than three dozen books on the subject, I have never read the diary of the most famous victim of the Holocaust. I've seen the movie version of her diary several times, and Frank is a constant source of discussion in my two classes. But her diary was never assigned reading for me (unlike most people, it seems), and my professors seem to seek out the journals, diaries, and memoirs of lesser known victims (probably because they assume I have read it).
The diary covers Frank receiving the diary on her thirteenth birthday in June 1942 through their time in hiding in the "Secret Annexe" to August 1, 1944, right before her family and the people hiding with them were betrayed to the Gestapo.
"It's an odd idea for someone like me to keep a diary; not only because I have never done so before, but because it seems to me that neither I — nor for that matter anyone else — will be interested in the unbosoming of a thirteen-year-old schoolgirl." (pg. 2)
The most surprising aspect of Frank's diary was the muted role Miep Gies seems to play out in the diary. This is not meant to disparage her role, and we have her to thank for preserving Frank's diary until her father, Otto, returned. But one particular young woman, Elli Vossen, was a constant source of entertainment and support for Frank while in hiding. Yet, I've never even heard of Vossen and she has never taken center stage (in terms of the hiders) in any adaptation of the diary I've seen.
There are moments when the reader is reminded that this just a young girl concerned about boys and school work and movie stars, and then there are other moments when she sounds so incredibly mature and insightful. There are also moments that made my stomach clinch. For example, on page 117 in my edition, Frank is discussing the cremation of her pen and remarks that is "just what I want later". I just felt sick after reading that small sentence. And I wonder, if she had lived, would she cringe at the things she wrote about her family, particularly her mother?
The diary was edited by Otto Frank; pages were removed including ones in which "Anne picks apart her parents' strained marriage, analyzes her own difficult relations with her mother, Edith, and vows to keep the diary out of her family's hands as "none of their business". The pages have since been added back into the diary, but my edition was published in 1993 and I missed these 2007 additions.
The diary also paints a very atypical existance in hiding, which I think most readers of this diary do not realize. Even those lucky enough to be in hiding were not as luck as Frank's family when it came to space, food, education, and entertainment. Most families were also unable to hide together unlike the Franks and Van Daans.
Ultimately, though, I did not love Frank's diary. I really have no great reason why. But I can understand why it is such a widely read account of the Holocaust, and I am glad I read it.
Others' Thoughts:
Book Mentioned:
Frank, Anne. The Diary of a Young Girl. Translated from Dutch by B. M. Mooyaart-Doubleday. New York: Bantam Books, 1993. Originally published 1947. Print. 283 pgs. ISBN: 0553296981. Source: Purchased.
Book Cover © Bantam Books. Retrieved: July 22, 2011.
Subtitled "Fragile Species in a Dangerous Land," this husband-wife duo recounts their efforts to study and protect the gorillas of Rwanda. Weber and Vedder worked along side the famous Dian Fossey and, later despite Fossey's objections, worked on their own initiatives to save and study the mountain gorilla through the aptly named Mountain Gorilla Project. The book also covers Fossey's death and, eventually, the Rwandan Genocide.
Back in May of this year, I attempted to read Fossey's autobiography entitled Gorillas in the Mist but struggled to follow the jumpy, confusing narrative and eventually gave up on trying to read the book. Vedder and Weber do not paint the most flattering picture of Fossey; certainly nothing akin to the image projected by the movie of the same name I watched three years ago. Her personality swings undermined Vedder's ecological study of gorillas and Weber's study on economic and cultural pressures on the national park in which the gorillas live. The distaste the authors often express towards Fossey seems to dominate sections of the book.
But I found this really did not distract from the narrative. Instead, I was completely enthralled and riveted by this tale. Honestly, it made me want to chuck it all and run off to live with the gorillas of Rwanda. The authors' admiration for the gorillas easily moves from the page to the reader; I greatly admire their dedication to establishing an economic incentive for the gorillas as well as spending time educating the children of Rwanda about an animal found almost entirely in their country.
Probably the section I was most impressed with, though, was the Rwandan Genocide. In one moment of the book, Vedder was asked by an American television network to appear on camera and talk about the threat genocide posed to the mountain gorilla. Instead, Vedder offered to talk about the people of Rwanda and refused to appear on camera when the network told her this was not what they (and, presumably, the American people) wanted to hear about. Not only am I glad they devoted so much of their research and book to explaining the history of Rwanda and why the gorillas are so undervalued, but also that they kept the victims of the genocide at the forefront of their dissection of this terrible event.
Book Mentioned:
Weber, Bill and Amy Vedder. In the Kingdom of Gorillas: Fragile Species in a Dangerous Land. New York: Simon & Schuster, 2002. Originally published 2001. Print. 384 pgs. ISBN: 0743200071. Source: Purchased.
Book Cover © Simon & Schuster. Retrieved: July 19, 2011.
Subtitled "The Trials and Triumphs of Twelve Gifted Inner-City Students", Corwin's book was meant to be a response to California voting to end affirmative action in college admissions. The students are all minorities from LA's notorious South-Central neighborhood and members Crenshaw High School's class of 1997 or 1998. Each student faces a myriad of problems — poverty, abandonment, abuse, illegal drugs, teen pregnancy, and gang violence — as they drag themselves to AP English class every morning.
Unlike other books about inner-city students, this book does not champion the efforts of wide-eyed, naive teachers who come into the inner-city and change the lives of their students. Not to disparage those teachers, but the two teachers profiled in this book are distracted by feuds with administrators and each other, which helps put the trials and triumphs of these students on a greater pedestal. One of the conflicts between the two teachers is over the curriculum; the twelfth-grade teacher wants the eleventh-grade teacher to stop teaching books by black authors and focus on the classics.
"We study some great, white authors, but children of color need to know there are great writers who look like them. They need to see our history is not just one of despair and slavery and entrapment and chains. They need to take pride in their culture. They need to gain inspiration in seeing a history of greatness in the African American writers. Some of these writers, like my students, came from impoverish backgrounds. They can be role models." (pg. 85)
The book's argument for affirmative action is often times pushed aside to introduce more students, explain their background, or follow a tangent about which literature by which authors should be taught. Eva of A Striped Armchair put up an interesting post on the concept of privilege just as I was halfway through this book. The information she provides also helped illuminate the points Corwin was trying to make in his book.
Does Corwin make a successful argument for affirmative action? It may not have been the strongest argument due to him following tangents left and right, but it certainly added to my knowledge of the argument for (and against) affirmative action.
I do have one minor point of contention that has stuck with me long after I finished the book. Corwin mistakenly refers to Clark University when he actually means Clark College in Atlanta. Normally not a major issue, but he's talking about how Clark College failed to provide the student in question with enough scholarship money to leave the neighborhood and, therefore, doesn't paint the college in the greatest light. I just feel like he should criticize the right university.
Book Mentioned:
Corwin, Miles. And Still We Rise: The Trials and Triumphs of Twelve Gifted Inner-City Students. New York: Perennial, 2001. Originally published 2000. Print. 420 pgs. ISBN: 0380798298. Source: Borrowed from my mom.
Book Cover © Perennial. Retrieved: July 15, 2011.
I celebrated clearing off a large space on my two to-be-read (TBR) shelves by buying more books at the annual used book sale at my public library. Fifteen books are now relegated to the floor of my closet, and my organized-by-color shelves are now missing blue, purple, and black. Whoops! But, in my defense, any book not purchased at the book sale by 2 pm MDT today would be sent to the recyclers. Poor books! I just couldn't leave any behind!
The first four on the left stack and the first three on the right stack (plus one not photographed) were purchased at the book sale Friday night for $2 a pop. The rest were all purchased today for $2 a bag, and they all fit into one bag. The damage:
Anna and the King of Siam (Margaret Landon)
Between the Assassinations (Aravind Adiga)
Birds Without Winds (Louis de Bernières)
The Bluest Eye (Toni Morrison)
The City & the City (China Miéville)
The Crimson Rooms (Katharine McMahon)
Embers (Sándor Márai)
Eternal on the Water (Joseph Monninger)
The Gendarme (Makr Mustian)
Half of a Yellow Sun (Chimamanda Ngozi Adichie)
In the Kingdom of Gorillas (Bill Weber and Amy Vedder)
Lady's Maid (Margaret Forster)
The Lovely Bones (Alice Sebold)
Obama's Wars (Bob Woodward)
The Prize (Daniel Yergin)
The Secret History of the Pink Carnation (Lauren Willig)
The Singing Fire (Lilian Nattel)
Originally, I was not going to be able to attend today's book sale as I was supposed to go on a 20-mile plus bike ride in a town about an hour from my house. However, I ended up bruising my bum pretty badly after taking a tumble during a hike yesterday and just could not stand to sit on my bike for longer than a minute. An unfortunate accident that lead to some exciting books making their way home with me. I'm especially pleased since many of the books have been on my TBR list for a long time.
The Sunday Salon:
The Sunday Salon encourages bloggers to get together –at their separate desks, in their own particular time zones– every Sunday and read. And blog about their reading. And comment on each other's blogs. Salon participants are encouraged to blog about their time spent reading, pages read, information about current reading, discuss a reaction to a book, state what they plan to read the following week, or make suggestions for a group read.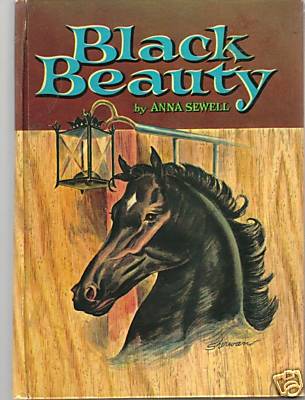 I've had a copy of this book for years but, despite being an avid horseback rider in junior high, I was never into books about horses the way my mom was. I do remember seeing the movie version of this novel at the birthday party of a fellow horseback rider several years ago (and scenes from the movie still plague me!), but this was my first time reading Sewell's novel.
Told from the point of a view of a horse named Black Beauty (but also at one point called Blackie and Jack), the novel explores the grotesque treatment of horses during the nineteenth century in London. Black Beauty spends most of his life as a cherished horse whether he's a gentleman's horse or pulling a cab through the streets of London. Yet a series of unfortunate events also land him in the hands of men who work horses to death and women who demands for fashionable appearances strain his muscles and patience. The action of some owners kill some of his friends prematurely or break their will to live any longer.
A beautiful piece of literature that, unfortunately, still has great relevance to our world today. The animal lover in me was greatly angered by this novel's turn of events. It's absolutely heartbreaking to read about Black Beauty being abused by his owners!And the practice of docking a horse's tail or a dog's ear not only still goes on today but has transcended into the treatment of animals in our food system. (But that's a topic for another day…)
This biting satire of conditions in 1877 is now shelved as a children's novel but, honestly, I do not know if I could have handled reading this novel as a child. I'm still haunted by scenes from the movie, scenes that sometimes sneak up on me and I'm left wondering where those scenes were from, and for me reading has always been more vivid experience than seeing a movie. My imagination would have had a field day with this book, and I probably would not have slept for weeks. I also wonder if I would have seen Sewell's political and societal commentary rather than the simple story…
The illustrations by Wm. M. Hutchinson in my 1955 edition of the novel are absolutely beautiful and definitely add to the story. I hope they continued publishing them with newer editions of Sewell's novel.
Book Mentioned:
Sewell, Anna. Black Beauty. Racine, WI: Western Publishing Company, 1955. Print. 285 pgs. ISBN: XXXXXXXXXXXXX. Source: Gift.
Book Cover © Western Publishing Company. Photographed by me.